Case study: recruitment with precision and blockchain innovation
Category
Marketplaces
Blockchain
Recruiting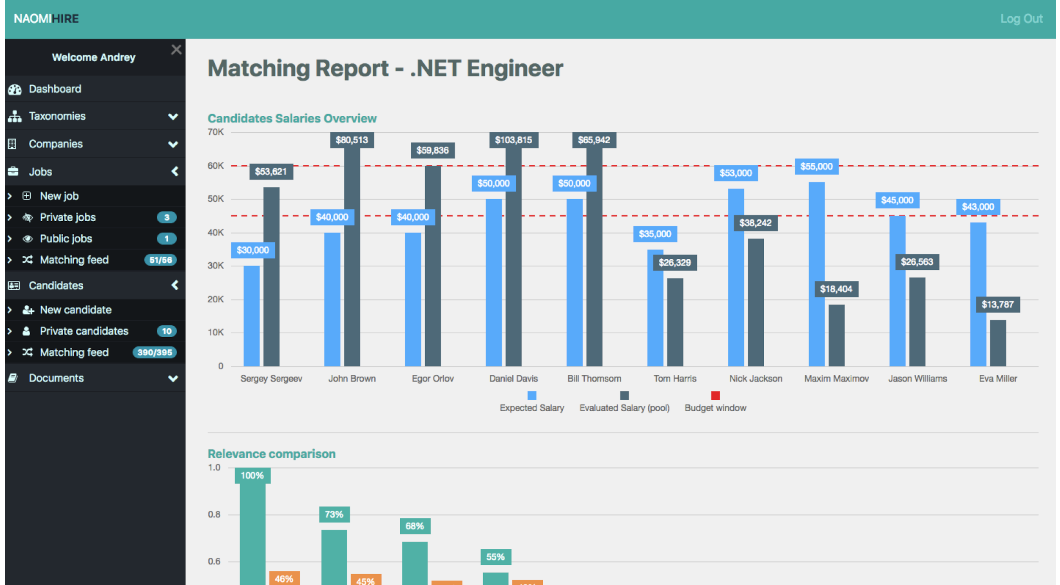 Project Overview
In the world of recruitment, we embarked on a mission to redefine candidate matching with unparalleled precision. Our recruitment marketplace on the blockchain introduces new talents acquisition. At its core, it boasts the precise candidate matching AI algorithm. The platform not only connects employers with the ideal candidates but also provides comprehensive shortlisting reports and evaluates candidate cost relevance based on the ever-evolving supply and demand dynamics of the job market.
Challenges
Developing a cutting-edge AI algorithm for precise candidate matching.
Leveraging blockchain technology to enhance transparency, security, and trust in the recruitment process.
Offering detailed shortlisting reports that enable informed hiring decisions.
Evaluating candidate cost relevance in real-time based on market conditions.
Designing an intuitive user interface and experience for a complex platform with over 100 screens and intricate user flows.
Our Solutions
AI-Powered Candidate Matching: Our AI algorithm sets standards for candidate matching accuracy, ensuring that employers connect with the right talent.
Blockchain-Powered Recruitment: Leveraging blockchain technology, we introduced transparency and trust into the recruitment process, improving how employers and candidates engage.
Data-Driven Insights: Our platform offers detailed shortlisting reports, equipping employers with the insights needed to make confident hiring decisions.
Market-Relevance Analysis: We assess candidate cost relevance by considering the ever-changing dynamics of the job market, ensuring cost-effective hiring.
Comprehensive Development: We meticulously designed over 100 screens and user flows to provide an intuitive and user-friendly experience on both desktop and mobile devices.
AWS CI/CD Infrastructure: Amazon AWS CI/CD infrastructure management ensures seamless updates and efficient deployment.
The result? A transformative recruitment platform that combines precision, blockchain innovation, and data-driven insights to connect employers with their ideal candidates while optimizing costs. If you're ready to embrace the future of recruitment and elevate your talent acquisition strategy, connect with us today to explore how our solutions can empower your organization.